Public Apology
Pretty Valley Alpine Lodge will NOT OPEN for the duration of the 2020 winter season.
After many weeks of soul searching, we have decided to suspend all commercial business components of the lodge. This includes dining (meals at the lodge and the pub), our licensed bars (also the lodge and the Cock 'n' Bull), snow sports hire along with the swimming pool, spas and sauna.
Even though the state government has announced on the 24/05/2020 that the Victorian Alpine Resorts, including Falls Creek will officially open on Monday the 22/06/2020 confirmation of restrictions have not been specified.
To our many past guests, we sincerely apologise for the decision we have made. The complications and uncertainty of the COVID-19 rules and regulations would not enable us to continue the first-class service that Pretty Valley is renowned for.
Issues with employing seasonal staff and also providing adequate staff isolation accommodation has been difficult to arrange, yet the main reason for our closure is for the well being and health of our loyal guests.
As the custodian of Pretty Valley for the past 40 years, this has possibly been the hardest decision that I have had to make.
We will soon be displaying photos of the upgrades at the lodge including the renovated en-suites, the completely rebuilt Cock 'n' Bull and the new steam room.
Yes, we have been busy with improvements during the past few months all of which will make your future stays with us more comfortable. Some exciting plans for 2021 will be on our website by the end of July, including the tariffs for next year.
And to top it off, we are still #1 on Tripadvisor for Specialty Lodging in Falls Creek.
Thank you again for your understanding.
Kind regards,
Barry.
Note: Ropers Apartments are open for the 2020 winter season.
Please contact carol@ropersapartments.com or 03 5758 3210 for bookings or general information.
Family Friendly Accommodation Falls Creek
A ski holiday is a special holiday, something to look forward to. A time to cut loose with your friends, a chance to share fun times with your family, a chance to live the things you promised yourself all year. Pretty Valley Alpine Lodge guests return season after season, bringing with them friends and family, and renewing acquaintances from past years. Pretty Valley is a special place, relaxed and friendly while providing high levels of professional service. The range of facilities at the lodge ensures that all guests can enjoy their holiday to the fullest.
Pretty Valley Alpine Lodge provides:
Children and family-friendly accommodation at Falls Creek
Children's dinner followed by supervised entertainment programs
The tariff includes breakfast, lunch and dinner daily
All our ski and snowboard hire equipment is FREE for our guests
Snow pants and jacket hire are FREE for all our guest to enjoy
17 metre outdoor heated pool
4 outdoor spas
Ski in-ski out location is fantastic
Traditional old English pub, The Cock and Bull
22 seat cinema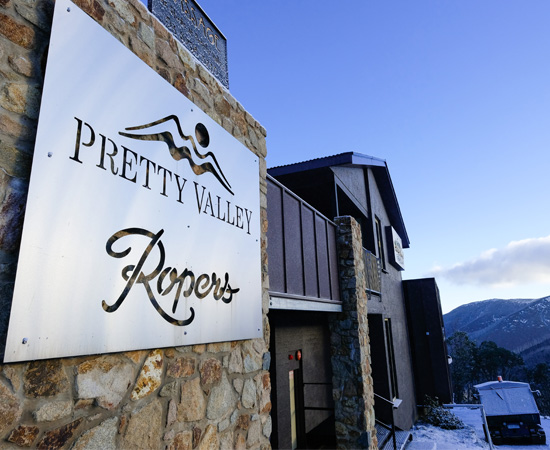 Pretty Valley Snow Guarantee:
All payments proved to be received, will be fully refunded, if 48 hours prior to scheduled arrival, there is insufficient snow to enable snow sports on at least three (3) designated downhill runs at Falls Creek.
This guarantee does not apply if snow sport runs at the resort cannot be accessed or lifts are unable to operate due to other conditions. This guarantee is applicable every day during the declared Victorian Ski Season.