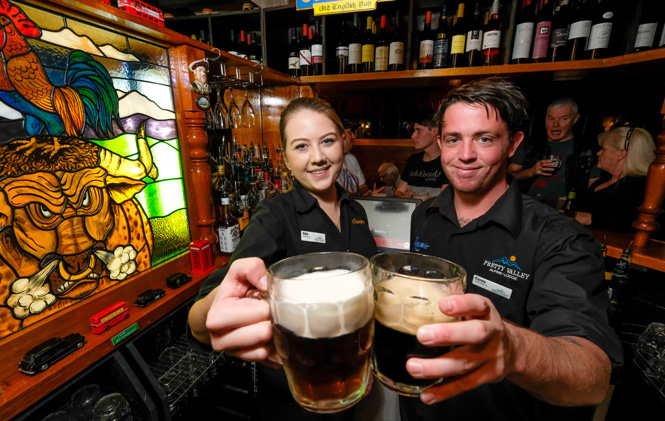 The Cock 'n' Bull Falls Creek
Back in 1996, Barry Jones at Pretty Valley decided to take a calculated gamble. The former Christies cocktail bar, which traded on the premise for the ten previous winters was revamped in favour of an English pub in the heart of Falls Creek.
For 2022 The Cock 'n' Bull puts out the welcome mat for its 26th year and a well worn welcome mat is that.
The pub with traditional English fare and beers on tap has been a hit since its inception. Anglophile memorabilia, English relics, intimate wood-panelled booths, an authentic bar and two comfortable snugs all add to the atmosphere and style of something truly unique in the snowfields.
Take Away Menu Available Between 5.00pm and 8.00pm
Take away Fish & Chips and Cock'n'Bull Home Made Pies.
The pub opens at 5pm daily. Between 5pm and 9pm a modified 'Happy 4 Hours' with discounted Kilkenny, Guinness, Furphy & Carlton Draught beer served on tap.
Call in for a drink, the Cock 'n' Bull is a special part of any Falls Creek experience.
Due to staff shortages, we will not be open for dinner service in 2022.