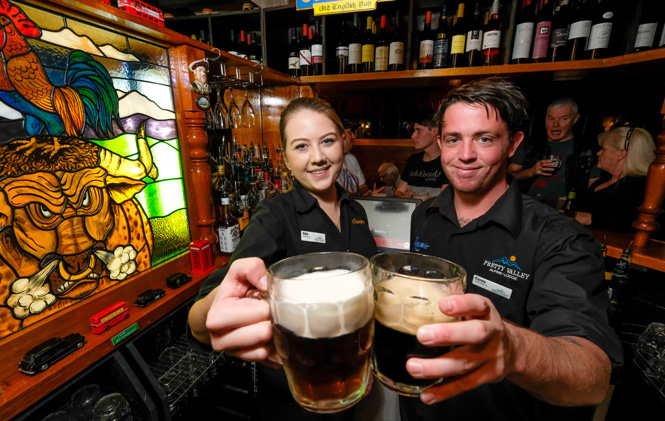 The Cock 'n' Bull Falls Creek
Back in 1996, Barry Jones at Pretty Valley decided to take a calculated gamble. The former Christies cocktail bar, which traded on the premise for the ten previous winters was revamped in favour of an English pub in the heart of Falls Creek.
For 2019 The Cock 'n' Bull puts out the welcome mat for its 21st year and a well worn welcome mat is that.
The pub with traditional English fare and beers on tap has been a hit since its inception. Anglophile memorabilia, English relics, an old-fashioned upright piano, intimate wood-panelled booths, authentic bar and two comfortable snugs all add to the atmosphere and style of something truly unique in the snowfields. Faithful to tradition, main course meals makes ex-Brits long for the Old Dart!
Roast beef and Yorkshire pudding, bangers and mash and gamekeepers' pie are all cooked with the authenticity by sons and daughters of the old country. For lovers of fish and chips they too make an appearance on the menu and also available as a takeaway.
Sweet tooths are not forgotten either. Chocolate pudding, sticky toffee delight and the infamous pint of ice cream sundae are all popular options.
Meals are a hearty size and good value.
For the 'billy lids' there is a special menu for kids under 12 years.
Take Away Menu Available Between 5.00pm and 10.00pm
Take away Fish & Chips and Cock'n'Bull Home Made Pies.
There is an extensive range of wines, including a quality selection of aged reds.
The pub opens at 5pm daily. Between 5pm and 7pm heavily discounted Kilkenny, Guinness, Furphy & Carlton Draught tap beer is served during happy hours.
Early evening meal times are either 6.00 or 6.30pm, whilst late sittings are 8.00 or 8.30pm.
Whether a drink or meal, the Cock 'n' Bull is a special part of any Falls Creek experience.